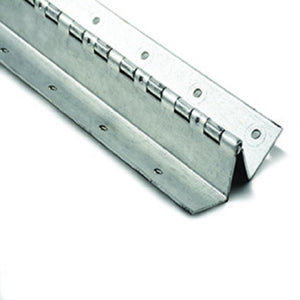 Boat Seat Hinge W Shape Hinge Aluminum 4-1/2" x 6 Feet Long for 2 lengths - both 6 feet long. 
We also carry the Piano Shaped hinge for between seat bottoms and backs. 
This is used between seat bottoms of most fold down sleeper boat seats. 
This can be cut to the length you need using hack saw or chop saw. 
W Style, A six foot length of continuous hinge in Mill Finish, drilled on 2" centers, staggered 1/2". 4 1/2" open width, in .060 Aluminum. W Style.
Uses - Marine/Industrial/ Recreational
Because of length and weight shipping to most ares would be $25.00. 
Please use the drop-down box when picking colors or style you would like.
Our goal is to provide the highest quality products at the best possible price.
Shipping - We ship to Canada and the USA from warehouses in Vancouver, Toronto, and Indianapolis. We ship from the closest warehouse to your location and where stock is available.
Shipping is based on weight, you will see rate when you check out.
Estimated shipping up to 5 lbs will be $20, up to 10 lbs $25, up to 15lbs $30, up to 20lbs $35 and so on.
All Prices are in Canadian Dollars.
We ship using couriers, Fed-ex, Purolator, Loomis, UPS, so no PO boxes please.
Shipping of multiple items will be charged on final weight of all products combined.
Samples of fabrics are available at $4.00 per sample. In our store, search samples and when you order, let us now the pattern name.
Local pick up is available with notice at warehouses in Vancouver, Toronto, and Indianapolis, if stock is available at that warehouse.
Returns - When a mistake has been made by Christies Fabrics the goods may be returned at no charge. In this case, a return authorization number is required and may be obtained through our Customer Service Center. Fabric may not be returned once it has been cut by the customer. Due to freight costs, we cannot accept returns on cuts of fabrics less than 5 yards, unless the problem was caused by Christies Fabrics, such as shipment of incorrect goods. There is a restocking fee for any goods returned for reasons other than an error on our part.  Returns will not be accepted on goods older than 90 days from the date of purchase. Christies Fabrics is a customer service-oriented company. We will make every effort to correct any mistake we have made. Wherever possible, we will work with our customers to minimize the negative effects of a mistake.
There are no returns on our clear out fabric specials, please request a sample if not sure, colors make look different on Screen than in real life.
If you want to return an item, let us know and we will give you a return authorization number, and an address to ship to.